The Palace Theater in downtown Elmwood, IL is a historical landmark. Not in the 'here's-our-certificate-of-authenticity' sense of the word. But in the minds of those who grew up here, who came of age here… it most certainly IS a landmark.
The theater was built by Lafayette Dalton around 1913 and 're-opened' in 1914 under the management of M.H. Phares.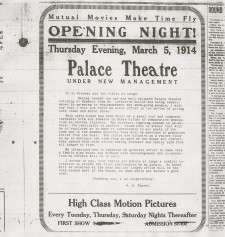 The article above appeared in the March 1914 edition of the Elmwood Gazette and reads:
"To my friends and the public at large: Having leased the new and well equipped Palace Theater building at Elmwood from Mr. Lafayette Dalton and being experienced in the catering to the amusement of show-going people, I will say that I will put forth my every effort in the matter of giving only clean and moral shows.
This opera house has been built at great cost and compares favorably with any theater in other cities of comparative population in central Illinois. The electric lighting system is up to date. The ventilator is perfect. Steam heat in winter that will be so regulated as to make it comfortable in all parts of the room and in the summer electric fans will be provided to guarantee relief from the heat. The chairs are situated on a raised floor so as to obstruct the view from no part of the house and comfortably spaced with wide aisles making yourself and family safe from all danger of fire.
My intentions are to exercise my greatest effort to make this a family play house but without your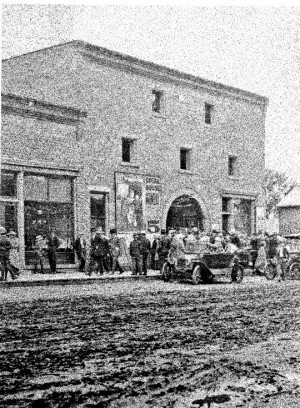 encouragement and co-operation my efforts will be in vain.
I extend to you, your family and public at large a cordial invitation to attend the first performance as my guests. No money will be received at the door and the ticket office will be the only closed part of the house, so come early and secure a good seat.
Thanking you, I am respectfully,
M.H. Phares